Why We Need More
Volunteers
We depend on the help of many hundreds of people to ensure that we are able to support all of the bereaved children and families who contact us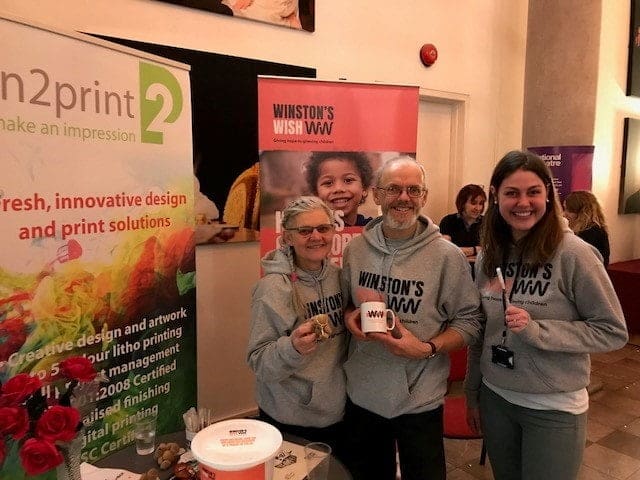 Volunteering with Winston's Wish is a fun and rewarding experience – by giving a little of your time you can make a huge difference to the lives of children and their families who have been bereaved.
Hundreds of people volunteer with us, either individually or with friends and family, all bring a special something that unites everyone associated with our Charity.
Whether it's a few minutes to like us on Facebook, a few hours to help at one of our many fundraising events, or a few days working on a special project or fundraising with your school or local organisation – anything you can offer will make a difference and help a bereaved child to face the future with confidence and hope.
We are looking for volunteers who can help….
Our practitioners support children and young people
Spread the word around your local community
The team with fundraising events
With the administration in our office
You don't need experience, help and support is available, all you need is a willingness to help and a little time. We'll do the rest.
This is a great opportunity for you to make new friends, learn new skills and have fun!
To find out more come to one our open evenings:
1.   Thursday, 28th June, 5.30-7.30pm at Winston's Wish, Ventnor Villas, Hove, East Sussex, BN3 3DD
2.       Tuesday, 10th July, 4.00-6.00pm at The Boardroom, Leigh Sports Village, Sale Way, Leigh, WN7 4JY
3.       Tuesday, 10th July, 7.00-9.00pm at The Chairman's Suite, Bolton Whites Hotel, Macron Stadium, Bolton, BL6 6SF
4.       Wednesday, 11th July, 3.00-6.00pm at Woodhouse Park Lifestyle Centre, Portway, Wythenshawe, Manchester, M22 1QW
5.       Tuesday, 24th July, 5.30-7.30pm at Winston's Wish, 17 Royal Crescent, Cheltenham, GL50 3DA
Interested?
For further information or to register your interest please contact pdaly@winstonswish.org or call 01273 805035
Useful
information
Click on the expandable links below for more information about volunteering at Winston's Wish.
If you have any queries or would like an informal discussion regarding volunteering with Winston's Wish, please feel free to contact our Volunteer Co-ordinator on 01242 515157 or email projects@winstonswish.org.
Alternatively, please contact us by completing the form below.
Who volunteers for Winston's Wish?
Anybody who shares our desire to help bereaved children! Our volunteers come from all walks of life – we have volunteers who are former Winston's Wish service users, students, retired, unemployed, employed, old or young – we aim to find a volunteering role to suit the individual.
What are the benefits of volunteering?
Volunteering can be a lot of fun and it's a great way of meeting new people. Some people volunteer in order to enhance their career development whilst students volunteer to gain skills and work experience to help them get a job. Some of our volunteers have had a break from the job market and are looking to update their skills and confidence and we also have many retired people who are looking to put their experience and some of their newfound free time to good use.
How much time do I have to give as a volunteer?
As much as you want. We will tell you what roles we need help with and you can tell us what you can do and when you can do it. Some people volunteer for a couple of hours a week, others help out at one-off events or during school holidays.
Can I volunteer to work directly with bereaved children?
We occasionally have opportunities for volunteers to support bereaved children and young people, however if positions become available, they will be advertised on our website. All of our other volunteering opportunities – from fundraising to office support – are vital in helping us to support the children and families who contact us.
I am under 16 yrs old, can I still volunteer?
For most of our volunteering roles you need to be 16 years of age, or older for some roles. The only exceptions are volunteering at our fundraising events – you are welcome to do this if you are accompanied by a parent or guardian.
What skills and experience do I need?
This will depend on what you do. Many of our volunteer roles do not require you to have any experience or specialist skills – just enthusiasm and the ability to smile! Some of our opportunities do require particular skills but these will be clearly stated on the role descriptions.
What training and support will I be given?
Whatever volunteer role you choose to take on, we will ensure that you have all the training and information that you need in order to feel safe and comfortable in your role. We wish to provide the best service that we can to children and their families, therefore for those volunteers coming into contact with children we provide a high level, intensive training programme. We will always ensure that our volunteers have a named staff contact that they can go to for further advice and support.
Where can I volunteer?
We currently have offices in Gloucestershire and West Sussex and a lot of our volunteers live in those areas. However, there are several roles you can carry out in your local area – our volunteers can be found out and about promoting our work and fundraising in their local communities.
What references do I need to give?
Winston's Wish will normally require two references before you can start volunteering with us. For certain roles that involve working with children or young people you will need a Disclosure & Barring Service check.
Can I claim expenses?
Winston's Wish volunteers do not receive any payment for their work. However, you are able to claim previously agreed travel and subsistence expenses.
I have special skills to offer – can I volunteer?
If you have a particular skill to offer and want to help Winston's Wish, please get in touch with the Volunteer Co-ordinator. If you could include a copy of your CV and a brief explanation of what kind of role you would be interested in, it would help us to see how best we can utilize your skills. In the past we have benefited from the help of web designers, human resource professionals and graphic designers.
Who do I contact for further information?
For further information please telephone the Volunteer Co-ordinator on 01242 515157 or email projects@winstonswish.org or use the contact form below.